This may be one of the most vulnerable blog posts I have ever written.
It's been 14 years since my brother, Will left us on earth. Sometimes it feels like a lifetime ago and sometimes it feels like yesterday. This year I feel a sadness that I haven't felt in some time. Some might think that after so many years that the grief should disappear but Helen Keller said, "What the heart has once known and loved, it shall never forget". I couldn't forget my brother if I tried, nor would I want to. I love all my siblings and I would venture to say we would all agree, our relationship with Will was special. Will was quiet, deep and introspective but when he laughed, he laughed from his belly like Santa and the whole house shook. You couldn't help but to also laugh. He would throw his head back and grin ear to ear with his shiny white teeth he kept clean by brushing and flossing after every single meal. He was smart but not necessarily into school. He did enjoy history and was a self-taught musician, learning by ear, to strum his guitar. He was the artistic and creative type and sometimes I wonder who he might have grown up to be if he was still here.
He was 24 when he overdosed from heroin in our childhood home. Unlike what tv and the media would have you believe, people struggling with addiction don't always die alone in dark, back alleys with needles stuck in their arms but over fifty percent die in homes. Why does this matter? It shows us these human beings are mothers, fathers, sons, daughters, brothers, sisters, cousins, aunts, uncles, friends and co-workers. Individuals dying from overdoses are not unwanted and unloved but I would argue, loved so much, it hurts.
My relationship with my brother was far from perfect. I won't paint him into a saint now that he's gone but I also won't let him be defined by his addiction because he was so much more than that. He was gentle, kind and loving. He was a father and loved his daughter very much often imploring that should anything happen to him, to please look after her. He would give you the shirt off his back if you asked him. He was a peacekeeper often acting as the diplomat between my mom and I when we got into our trivial disagreements. He helped me paint my apartment and anytime I called him, he picked up.
Every 11 minutes, someone in the United States dies from an opioid overdose, according to the National Center for Health Statistics. Opioid addiction is NOT a choice or moral failing, this is an illness and needs to be treated as such.
When my brother relapsed, he asked for help. He was ready and willing to get treatment. Because he was uninsured and didn't have funds, help was unavailable. He made a counseling appointment through a non-profit he knew about it for the following Wednesday afternoon. He never made it though. While Wednesday was less than a week away, he died on that Friday. What does that tell you about our healthcare system?
The implications of the opioid epidemic are extensive and in a recent study, the National Institute on Drug Abuse estimates that illicit drug and alcohol misuse accounts for more than $400 billion in annual spending related to healthcare, lost productivity at work, and crime.
While those numbers are enormous, they will never come remotely close to putting a price tag on the lives and talent lost to addiction. Who knows what scientists, creatives and incredible human beings might have been?
I will briefly add that the opioid addiction is also impacting the lives of some of the nation's most vulnerable children: those in foster care or at risk of entering the system. Last year, I participated as a Foster America fellow, a non-profit whose work is focused on developing a pipeline of leaders and innovators and building a movement to transform the child welfare system. While I heard the news stories and knew from close experience the connection between opioids and foster care, being part of the system really opened up my eyes.
According to research published in July 2019 through the Adoption and Foster Care Analysis and Reporting System (AFCARS), a federally mandated data collection system that includes information on children in foster care in the United States, the number of cases of children entering the foster care system due to parental drug use has more than doubled since 2000. According to a recent NPR report, More Kids Are Getting Placed In Foster Care Because Of Parents' Drug Use, by Susie Nielson, AFCARS research showed that nearly 1.2 million had parental drug use as the primary cause." It also reported that, "Children being removed for parental drug use were more likely to be 5 years old or younger than children removed for other reasons. And the proportion of drug-directed cases involving white, Midwestern and non-urban children increased."
So why am I telling you all of this on the 14th anniversary of my brother's passing? The U.S. Surgeon General Vice Admin, Jerome Adams said this recently at a Pew event on the opioid epidemic, "I think one of the biggest killers, if not the biggest killer, is stigma."
I'm telling my story not for your pity or even your sympathies.
I am telling my story to break the stigma.
Addiction is NOT a choice or moral failing, it is an illness and needs to be treated as such.
We need to stop shaming and blaming not only the people who suffer from addiction but their families and loved ones. I invite you to learn more about the opioid epidemic as well as the strain it causes on the foster care system. Lastly, consider offering compassion and understanding, instead of judgement or blame, for what individuals and families are going through. After all, we all belong to each other and we're all on this life journey walking each other home.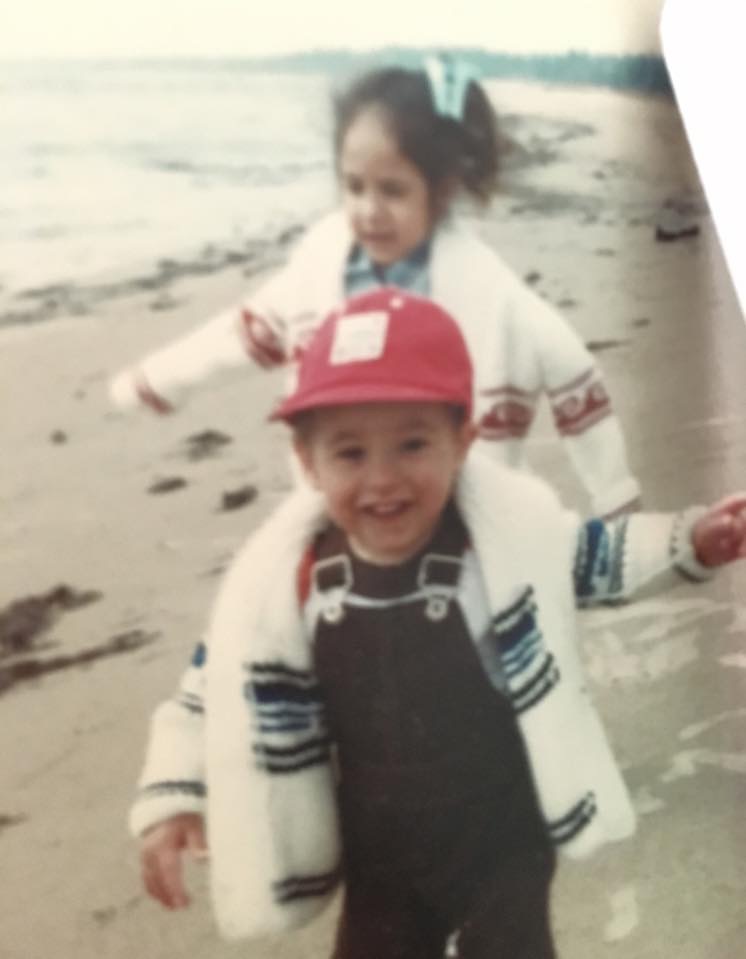 Every. Single. Day.
I wish I could hug you right now.
Thankful for the 24 years we got with you.
I love you always.
Your Sister,
Ruby